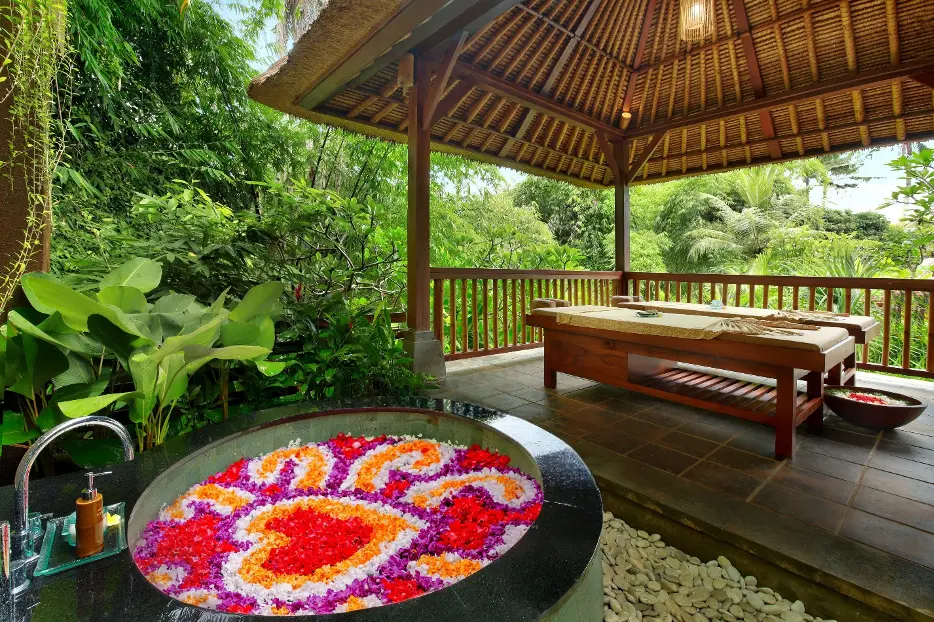 Its outstanding spa scene emphasizes Ubud's reputation as a wellness destination. Offering far more than typical beauty treatments, the spa in Ubud experience is an immersive journey of relaxation, healing, and self-exploration. Drawing from Bali's ancient wellness traditions and the gift of its natural environment, spas in Ubud provide an array of treatments designed to soothe the body, calm the mind, and nourish the spirit.
The spa culture in Ubud is a deep-rooted tradition that has been an integral part of Balinese life for centuries. The Balinese philosophy of Tri Hita Karana, which emphasizes harmony with the divine, the community, and nature, has shaped the spa in Ubud experience. Spa treatments in Ubud stand out for their holistic approach to wellness, natural ingredients, and peaceful setting. Unlike spas in many other parts of the world, spas in Ubud offer a sanctuary to not just unwind but also connect with the self and nature.
The traditional Balinese massage, boreh spice wrap, traditional coconut body scrub, and tropical Balinese flower bath are just a few examples of the unique offerings. These therapies draw from the knowledge passed down through generations of Balinese healers and incorporate the island's medicinal plants and herbs. Among numerous Ubud's wellness activities, bathing rituals stand out as one of the ultimate gateways to relaxation. Relaxing bath rituals have been improved over many years and are based on Balinese traditions and healing methods. Enveloped by the pleasant smell of tropical flowers and the calm environment, these rituals can help guests feel a deep sense of peace and health. Furthermore, we will guide you to the luxurious spa experience in Ubud and the art of bathing rituals as a part of the ultimate spa experience in Nyuh Bali Resort.
1. Tropical Balinese Flower Bath
Tropical Balinese Flower Bath is crafted to make you feel like a Balinese queen, this handcrafted flower bath allows you to be pampered by a harmony of colors, scents, and natural goodness, enveloping your body and mind in a world of pure indulgence.
Drawing inspiration from ancient Balinese customs, where flowers hold deep cultural significance, this bathing ritual goes beyond mere relaxation. The flowers used in the bath are carefully handpicked and thoughtfully arranged, representing a deep reverence for nature and a celebration of the island's heritage. The beautifully curated tropical flower bath, decorated with an exquisite array of flowers, becomes the centerpiece of your experience. Frangipani, marigold, and other native flowers float gently in the bath's warm water, creating a charming visual spectacle that reflects the lively culture of Ubud.
Beyond their aesthetic appeal, the tropical flowers in the bath offer many aromatherapy benefits, enhancing your spa journey to a whole new level. Tropical Balinese Flower Bath at Mahamaya SPA is infused with ylang-ylang essential oil, renowned for its ability to soothe the mind, relax the body, and promote an overall sense of well-being.
The ylang-ylang essential oil, extracted from the flowers of the Cananga tree, emanates a sweet and exotic aroma that lingers in the air, calming the nerves and reducing stress. This delightful fragrance complements the natural scents of tropical flowers, creating a harmonious blend of aromas that transcend the boundaries of ordinary relaxation. As you immerse yourself in the fragrant waters, the combination of tropical flowers and ylang-ylang essential oil begins its therapeutic magic. The oils from the flowers and the essential oil are absorbed through your skin, while the inhalation of the aromatic molecules sets off positive effects within your body.
2. Energizing Herbal Bath
In the serene ambiance of Mahamaya SPA, the Energizing Herbal Bath beckons you to start a revitalizing journey for your body and mind. Inspired by ancient healing traditions and using a carefully curated selection of local herbs, this bath is designed to invigorate your senses, boost your energy levels, and promote a profound sense of well-being.
Ubud, with its lush landscapes and abundant biodiversity, is a rich source of medicinal plants and herbs. The Energizing Herbal Bath harnesses the potency of these locally sourced botanicals, each chosen for its unique healing properties and aromatic benefits. Common herbs like ginger and lemongrass, known for their invigorating qualities, work in harmony to awaken your senses and refresh your spirit. These herbs are also renowned for their antibacterial and anti-inflammatory properties, making them ideal for cleansing and nourishing the skin.
Balinese turmeric, a golden-colored spice that has been revered for centuries for its medicinal value, adds a touch of earthiness to the bath. Its anti-aging and skin-brightening properties promote a healthy glow and leave you feeling rejuvenated. The therapeutic bathwater works wonders on your skin, providing a soothing and healing touch that envelopes you in a cocoon of comfort. As your body absorbs the herbal infusions, the active compounds penetrate deep into your skin, promoting detoxification, stimulating blood circulation, and revitalizing your tired muscles.
Guests who have experienced the Energizing Herbal Bath have been captivated by its transformative effects. Many have expressed how the herbal infusion, coupled with the serene ambiance, has left them feeling renewed and energized. Whether you seek a moment of peacefulness amidst your adventurous journey or wish to enhance your overall well-being, the Energizing Herbal Bath promises to be an unforgettable spa in Ubud experience.
3. Cleopatra's Rose Milk Bath
Cleopatra's Rose Milk Bath is not just a decadent indulgence; it is a spa experience that pours your skin with indulgent care. The combination of milk and rose brings a wide range of benefits that promote skin hydration, softness, and radiance. Milk gently helps to remove dead skin cells, revealing a smoother, more youthful complexion. The natural fats in milk act as a humectant, locking in moisture and leaving your skin feeling velvety smooth. On the other hand, roses are celebrated for their delicate fragrance and remarkable benefits for skincare. The enchanting aroma of roses also has a positive impact on the mind, promoting relaxation and alleviating stress.
Imagine Cleopatra's Rose Milk Bath experience awaits you with its luxurious arrangement of fresh rose petals floating in a warm, velvety pool of milk. The luxurious combination of milk and rose works its magic on your skin, leaving it feeling supple and rejuvenated. The calming scent of roses relaxes your mind and melts away the stresses of the day. This immersive experience at the luxurious spa in Ubud allows you to savor the same essence of beauty and elegance that Cleopatra herself once cherished.
4. Island Frangipani Milk Bath
Frangipani Milk Bath allows you to experience a slice of tropical paradise at Mahamaya SPA. This indulgent bathing ritual brings the essence of Ubud's tropical islands right to your fingertips. The warm, inviting waters are infused with pure coconut milk, and delicate frangipani petals float gently, creating a soothing and relaxing experience that takes you on a blissful escape. The Island Frangipani Milk Bath invites you to let go of your worries and immerse yourself in a world of pure relaxation and rejuvenation.
In this delightful bath, the magic comes from the powerful combination of frangipani and coconut milk, each offering nourishing and hydrating benefits for your skin and senses. Frangipani, also known as the "flower of the gods," has an enchanting fragrance that brings a sense of calm and peace. This beautiful flower also contains natural antioxidants, which help your skin repair and rejuvenate, leaving it feeling refreshed and revitalized. Coconut milk is like a luxurious elixir for your skin. Full of vitamins and fatty acids, it deeply moisturizes and softens your skin, making it feel silky and smooth. The natural properties of coconut milk also help cleanse and soothe your skin, making it a perfect ingredient for a nourishing bath experience. The frangipani and coconut milk work together to pamper your skin, leaving it soft and glowing
5. Beyond Flower Baths: Exploring Other Rejuvenating Options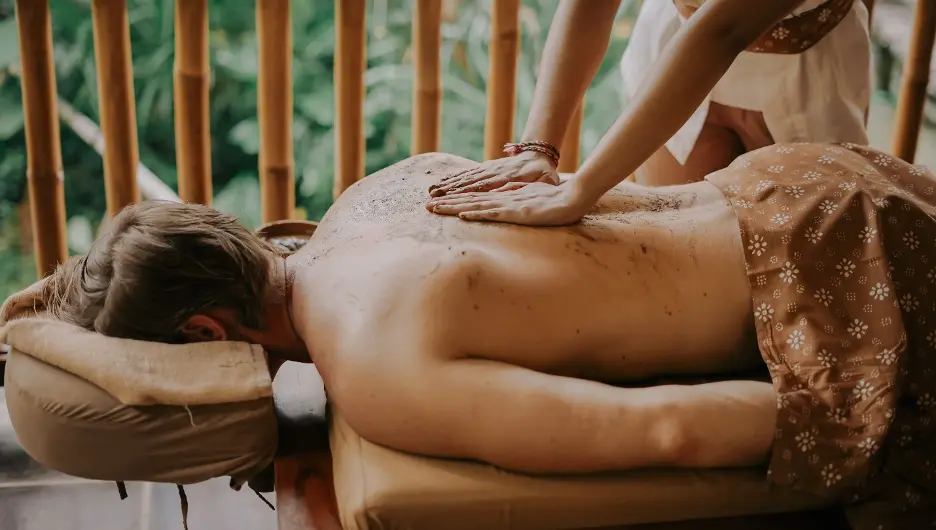 While flower baths are an attractive highlight at Mahamaya SPA, there are other rejuvenating treatments available that cater to various preferences and needs. At Nyuh Bali Resort, the art of pampering extends beyond massages and scrubs. Indulge in a Heavenly Aromatherapy Massage, where the therapist uses essential oils tailored to your preferences, infusing the air with soothing scents that promote relaxation and inner peace. For a truly immersive spa in Ubud experience, consider the Refreshing Citrus Body Scrub that exfoliates your skin and lets it shine.
Nyuh Bali Resort also offers specialized treatments for couples, providing the perfect opportunity for you and your partner to share a moment of relaxation and connection. Enjoy the romantic ambiance of the Couple's Romance Massage, designed to rejuvenate your bond and create lasting memories together. Each treatment at Nyuh Bali Resort is thoughtfully crafted to ensure a holistic and delightful experience. From the expert touch of the therapists to the premium quality of the products used, every detail is aimed at enhancing your well-being and leaving you feeling pampered and renewed.