Ubud is one of the most prominent places in Bali where you can undoubtedly discover a graceful blend of culture and nature. It is a small town with a tremendous sense of tranquility, a suitable place to recharge and refresh. It's the place where you can run into a laid-back rural experience and relax from your hectic everyday routine. This town offers breathtaking scenery of nature and a profound Balinese culture atmosphere which can develop a lasting impression on people's memory.
The serene vibe that fits to rejuvenate the mind and soul is not the only highlight of this ancient tropical town, but Ubud is also abundant with many gorgeous 'Instagram-worthy' places where you can generate great photography and share your vibrant holiday stories. Besides witnessing beautiful traditional Balinese culture, doing meditation, trying tasty culinary, or doing much more interesting activities, taking photos is definitely something that you can't resist doing.
Here are the most Instagrammable places in Ubud that we have collected up, to truly complete your holiday experience.
1. Campuhan Ridge Walk
This Campuhan ridge walk is a popular narrow hill pathway in Ubud where you can witness the beautiful scenery of pristine green grass on its sides. The natural beauty along this pathway makes it a favorable trekking track used by both locals and tourists. The sight of the stunning green scenery with the long-paved track is definitely an incredible scene to take pictures. The best time to enjoy walking on Campuhan Ridge Walk and take marvelous pictures are in the morning and afternoon. The golden-colored sky will generate more breathtaking scenery, a perfect view for your Instagram feeds.
You can feel the fresh breeze and enjoy stretching your leg along this track, a great escape from the busy traffic that you have experienced. Campuhan Ridge Walk is surrounded by two rivers and the word "Campuhan" itself is a Balinese word that refers to the meeting point of two rivers. And that meeting point is spiritually significant to Balinese Hindus and believed as a sacred place. Therefore, you will see a sacred temple called Gunung Lebah temple built near the Campuhan Ridge Walk. As this pathway offers a very beautiful setting, you should visit this spot and take several nice shots on your phone.
2. The Bali Swing
The Bali Swing is the iconic spot in Ubud where you can take pictures of you swinging with the beautiful famous palm tree valley scenery. When you explore this place, you will witness a marvelous green view that will be a magnificent setting for your Instagram pictures. As the scene will be extremely attractive, this place becomes a popular Instagrammable place in this town. The Bali Swing offers several swings with different heights above the ground that you can choose. This is a great spot to get your adrenaline pumping while also enjoying the visually pleasing scenery. It will be a pleasant and unique experience that you will find hard to beat any other place in Ubud.
If you cannot stand the heights, don't be afraid to miss the experience to take an attractive picture because The Bali Swing additionally offers many Hanging Nests. You can take pictures of yourself inside the giant nests that are beautifully constructed around the area. The pictures you take on the Hanging Nests will be as wonderful as the scene portrayed when you take pictures on the swing. If you seek a spectacular adventure around the picturesque surroundings, coming to The Bali Swing is a great choice. It will be one of the most memorable experiences that you can encounter in Ubud.
3. The Sacred Monkey Forest Sanctuary
If you are a fan of animals, The Sacred Monkey Forest Sanctuary is the most-visited place in Ubud. It is the famous nature reserve and Hindu temple that's on the bucket list of tourists who want to visit Ubud. You will discover sacred temples with exquisite carvings inside the monkey forest that will give you a beautiful ancient Ubud vibe. The scene of the Balinese Long-tailed monkeys walking around inside of the gigantic tree forest will be an attractive view that you can witness and capture.
Taking pictures around the long-tailed monkeys surrounded by beautiful stone carvings, giant trees, and beautiful temples will generate a unique scene. It's an incredible location for photography that will make you feel so close to nature. Besides, it is also an opportunity to interact with those exotic grey-haired animals in a serene atmosphere. The Sacred Monkey Forest is the place to take great shots that will represent the harmonious scene between humans and nature and monkeys.
4. Tegalalang Rice Terrace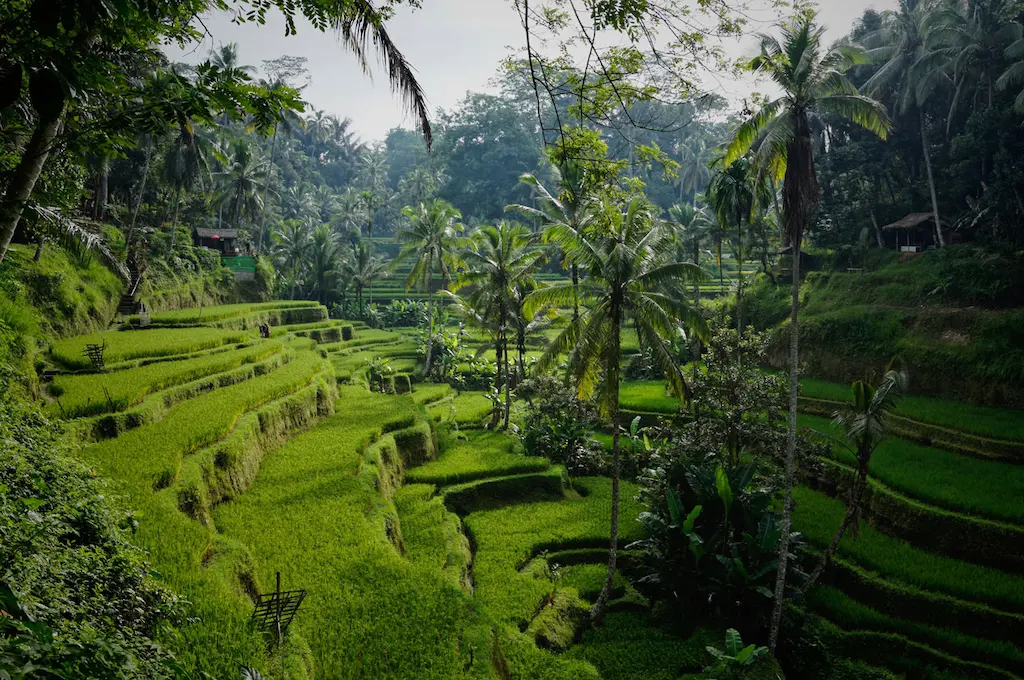 The wonderful sight of the wide green rice terrace is a scene that you cannot miss out on when you are in roaming Ubud. This is one of the most popular places in Ubud that offers a stunning sunrise view in the midst of a beautiful giant rice field terrace. Located in the north of Ubud, this wide rice field is a great spot to wander around and explore a beautiful natural beauty. Coming here in the morning is the best time to take excellent pictures and likewise avoid crowded visitors.
Enjoying the dusk on this emerald rice terrace will be an astounding experience and you will be no longer questioning why this spot is on the Instagram list. Tegalalang Rice Terrace is a beautiful spot that must be visited by people who want to experience a tranquil rural atmosphere. The view of Tegalalang Rice Terrace is likewise aesthetic at dawn so many people come in the afternoon to take beautiful selfies with the sunset background. The remarkable landscape view makes Tegalalang Rice Terrace become a prominent place for photography in Bali.
5. The I LOVE BALI Sign
The famous I LOVE BALI sign is the other Instagrammable place in Ubud that you can find near the Tegalalang Rice Terrace. This colorful sign is easy to find as it stands out in the midst of the green rice terrace view. Located a few steps from the road, your eyes will be instantly attracted to the beautifully constructed I LOVE BALI sign. After trekking through the lush green rice terrace, you can stop by at this iconic sign to capture a couple of lovely shots.
More often than not, this spot is surrounded by a crowd of people who wait for their turn to take pictures. If you want to have a longer time to enjoy taking several pictures, you can visit this sign early in the morning. The scene of the sun that rises from the east will additionally become a magnificent setting for your pictures.
6. Saraswati Temple (Saraswati Water Palace)
Taman Saraswati Temple is a renowned temple with a beautiful architecture located in the center of Ubud. The temples in Bali typically have extremely beautiful carvings, but the design of Taman Saraswati Temple is one of the most popular works admired by people. The beautiful construction of this temple was overseen by the iconic Balinese artist, I Gusti Nyoman Lempad. When you visit this spot, you will see how the architecture of Taman Saraswati Temple can always give a strong impression.
You can see gorgeous carvings in this temple, they were built to honor Dewi Saraswati, the goddess of wisdom, knowledge, and art. Within this temple, you will find a pond filled with lotus plants, it is a very popular spot that is favored by people to take snaps. The blend of the gorgeous carvings and the beautiful lotus pond generate an artistic scene for photography. Saraswati Temple is easy to find, and you can watch the Balinese dance performance here as its often held in this temple. Therefore, while taking attractive shots in this spot, you can also witness a beautiful cultural performance.
7. Ubud Traditional Art Market
The Ubud Traditional Art Market is a renowned tourist market which is visited by a vast number of tourists each year. In this market, you will find many beautiful hand-crafted goods, women dresses, handmade bags and almost everything that you need. Located across from the Royal Ubud Palace, this traditional art market is a suitable place to find many unique souvenirs. Astonishingly, this tourist market is not only a great choice for shopping but it is also an amazing spot to capture gorgeous pictures that will beautify your Instagram feeds.
The combination of beautiful handmade goods with various beautiful colors is a spectacular setting for an Instagrammable photo. This place is definitely a must-visit place in Ubud that will not merely fulfill your needs for shopping but equally give you a wondrous scene for good photography. Within the market, you will discover a broad range of items ranging from household items to those beautiful goods that you won't find anywhere else in Bali. You can also discover many appetizing foods that you can consume to fill your stomach in the midst of your hunting.
8. Gunung Lebah Temple
Located near the Campuhan Ridge Walk, Gunung Lebah Temple is a hidden gem that you can discover in Ubud. The magnificent ancient architecture with the serene environment that will give you a sense of ultimate tranquility is the main attraction to this temple. You will get a remarkable natural scene when you take pictures in this temple. You can also witness a breathtaking sight of pristine forest and rice fields when you come to this spot. Gunung Lebah Temple is one of those areas where you can breathe fresh air and feel a sacred atmosphere. You also won't find any rubbish as the people there keep the area clean because it is a sacred area.
Gunung Lebah Temple is located down on the Campuhan Valley so when you see it from the hill, it will be a unique sight. If you are lucky enough, sometimes you will see Balinese people pray at the temple, which makes it very charming. The beautiful stone carvings, green trees, and a peaceful atmosphere are all combined together to become a memorable experience in Ubud.
Every corner of Ubud is outstandingly beautiful, and exploring this small town will be one of the most amazing holiday experiences that you can ever have. In Ubud, although you can capture good pictures even when you just stroll around the street, those places that we have gathered up above are the places that you should go to. They are very easy to find, and you will be delighted to visit them and capture your best moments in this town.